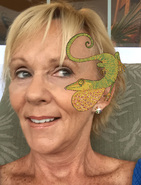 Roxann loves writing and illustrating children's books. She illustrated "Grandad's Magic Tree", written by Rebecca Holmes and has written and illustrated "Head in the Clouds" and "The Musicians". She is currently working on her next children's book, "Dog Park Gossip". She is a member of the SCBWI (Society of Children's Book Writers and Illustrators).

"Creating is my passion. Creating words and images for children that spark their imagination is my dream. Leading them to the rabbit hole, daring them to enter, and return enlightened is my goal."




---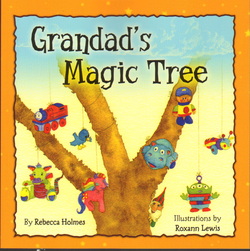 Grandad's backyard is a magical place, filled with flowers, birds, and trees. But his grandchildren discover that the backyard has welcomed even more magic than just its natural beauty. It has also been a stopping place for Bertiwaddle, an adventurous gnome from the Black Forest of Elderwinkle, who landed there in a birch tree on his journeys, and stayed long enough to share his amazing tale with Grandad. In the delightlful children's book, Grandad's Magic Tree, children ages 3 - 9 years old will discover a world of magic, danger, and adventure that is certain to ignite their young imaginations. With vibrant illustrations, this extraordinary little book is a perfect read-along for parents, grandparents, and anyone who wants to share a special story with a child. Shimmering with the boundless potential of imagination, and the beautiful bonds between grandparents and grandchildren, Grandad's magic Tree is a joyful, captivating addition to any young person's growing bookshelf.

Available at Amazon (click on the link button below):
---
"Head in the Clouds"
"Grandad's Magic Tree"
"The Musicians"